Beginners Bonspiel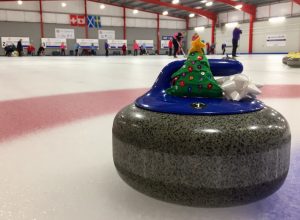 We are delighted to be hosting our first Beginners Bonspiel on Sunday, December 16, from 10 a.m. until 2:15 p.m.
The day will consist of two, 5-end games, plus lunch and a welcome tea/coffee. The price is £25 per person.
Teams will be made up of two beginners and two experienced curlers, each from different clubs. It should be a fun, exciting day – and a great opportunity to get on the ice and learn from some of our regular club curlers! The competition is open to any beginners with 2 years or less of experience curling.
Susan Kesley, who has represented Scotland on the international level, has offered us the lovely Dunvegan Quaich for the event. The Quaich was given by her parents as a trophy at the old Gogar Park curling rink, so we're looking forward to handing it to the top team at our Beginners Bonspiel.
If you are a club wishing to participate, please email us for registration information.