Disability Programmes
Wheelchair Curling
Lothian Wheelchair Curling Club (LWCC) plays here every Friday afternoon from 12:05-14:05. Sessions are open to anyone with a physical disability who is at least 14 years old and uses a wheelchair. You must have your own wheelchair to participate but please note this does not need to be a sports chair.
All equipment for curling will be supplied. Sessions are £5 each and your first session is free. If you are attending regularly, you will be asked to become a member of Edinburgh Curling Club.
Please contact Dave Carr for information on joining.
---
BSL/Deaf-Friendly Sessions
The 2018/19 season saw our first sessions designed specifically for participants with hearing impairments. If you would like to join a session this season, please email Helen Kallow, Scottish Curling's Disability Development Officer, as she will be gauging interest and scheduling sessions at Murrayfield.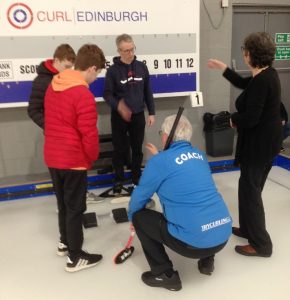 Read about the first BSL Try Curling session on the Scottish Curling website.
---
Bringing a Group
If you would like to bring a group with specific needs to the curling rink, please contact the office for guidance. We can accommodate a wide range of ability levels, so don't hesitate to get in touch.
Helen Kallow at Scottish Curling is also a great resource for understanding how curling can help promote an active lifestyle through a variety of adaptive programmes.