Sellar Trophy
Congratulations to Team Gibb, the winners of the 2019 Sellar Trophy! Read more in our news feed.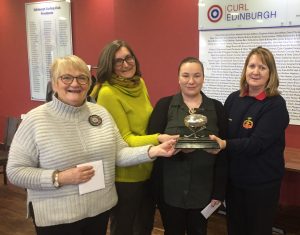 ---
The 2018/2019 Sellar Trophy took place at Murrayfield Curling Rink on:
Tuesday, January 22
Wednesday, January 23
Thursday, January 24 (finals)
This ladies event is a two-section Schenkel, with the top two rinks in each section qualifying for the High Road semi-final. The third and fourth rinks in each section qualify for the Low Road semi-final.
High Road: Sponsored by Edinburgh Curling Club
Low Road: Sponsored by Laurence Smith & Sons (Edinburgh) Ltd., Wines & Spirits
2019 Sellar Trophy Participants
Section A
A1 S Renton
A2 E Sharp
A3 W Henderson
A4 S Stenhouse
A5 B Gibb
A6 A Davidson
Section B
B1 M Kidd
B2  V Gumley
B3 C Nicoll
B4 M Barry
B5 S Tooley
B6 S Watt
Section A will play Tuesday 22nd Jan at 9.45 and 2.30 Wednesday 23rd Jan at 12.05.
Section B will play Tuesday 22nd Jan at 12.05 and Wednesday 23rd Jan at 9.45 and 2.30.
Semi Finals will be played at 9.45 and Finals at 1.00 on Thursday 24th Jan.