End of season 2021/22
Yesterday, Sunday 3 April, we got to celebrate the end of our first full curling season for the first time since 2018/19!
During our final weekend we hosted extra Try Curling sessions, even more Group Experiences, the Scottish Mixed Championship (the winner of which goes on to represent Scotland in the World Mixed Championship), and some very social games during Edinburgh Curling Club's Closing Bonspiel.
Thank you to everyone that has supported us through these challenging times, especially our coaches who have helped us deliver an incredible number of coached sessions. We've hosted 47 Try Curling sessions over the course of the season, permitting almost 400 people the chance to sample our sport – a good number of which have progressed through our Beginner Courses to the New Stones beginners club, which is now at record membership numbers. Alongside that we've hosted more Group Experiences than ever before, ranging from friends and families, to birthday/stag/hen parties, work groups, corporate days, visiting schools, tourists, and more. We've been delighted to hear of so many enjoying their visit and eager to return next season.
Congratulations to Cammy Bryce who skipped a team to the Scottish Mixed Championship title for his third time, alongside Lisa Davie, Scott Hyslop, and Robyn Munro. Can you believe they formed only days before the competition started?! You can read more about the event on Scottish Curling's website here.
The Edinburgh Curling Club Closing Bonspiel saw 42 participants put into teams for 3 ends of play against opponent 1, following which the winners changed sheet before everyone played another 3 ends. The final 6th end was played as normal, but its score was to be determined by the random novelty rule that was hidden inside an envelope (different rule for each sheet) and only revealed after all stones were played. Some teams were lucky to benefit from a point for every stone in the 12ft or on one side of the sheet, but for two that shall remain nameless, they managed to finish with all 16 stones in play only to discover that their scoring rule was a point for every stone out of play! Much hilarity from players and spectators ensued.
Our overall Closing Bonspiel winners for the 2021/22 season, pictured below, were John McOmish, Jamie Millar, Graham Reid, and Mary Jewison, who are all members of the New Stones beginner club.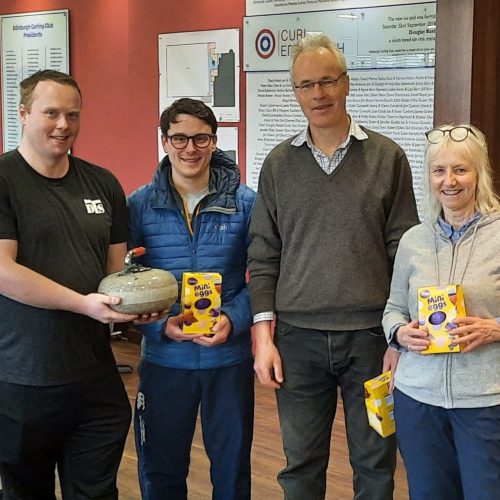 We hope everyone enjoys the off-season, and we look forward to welcoming members and visitors alike onto fresh ice once we re-open for the 2022/23 season in September.