Ottawa Valley Tour visit
On the morning of Friday 28 October, a group of touring curlers from Ottawa Valley arrived at Curl Edinburgh to take on 24 locals in a friendly bonspiel.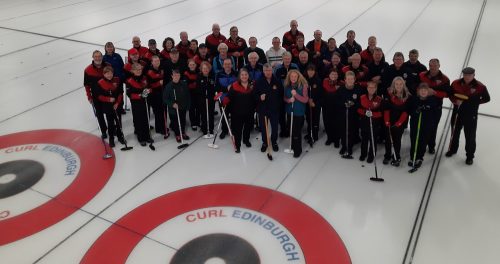 Curlers representing the curling clubs of Penicuik, Mid Calder, Currie & Balerno, Gogar Park, Livingston and Carrington made up the six local teams, with our spare player, Paul Davis, being adopted by the Canadians for the day.
A couple of welcome speeches and a group photo preceded the six matches, which all started at 0930. After two hours of great curling, the Canadian teams emerged victorious with an overall score of 44 shots to 42.
Everyone retired to the clubrooms for lunch and entertainment. Edinburgh Curling Club's Vice President, Ian Keron, was presented with a plaque to commemorate the Ottawa Valley tourists visit to Edinburgh.
The tour is called a Friendship tour and certainty there was lots of friendly banter on and off the ice. A big thank you to Isobel Hannen for organising the Edinburgh leg of the tour and to the 25 Edinburgh curlers who gave the tourists a day to remember.