Congrats to our Local Scottish Curling Champions
Please join us in congratulating Bruce Mouat and Jennifer Dodds, two of our local curlers, who claimed the top prizes at the Scottish Curling Championship in Perth this weekend!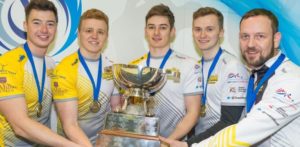 Bruce Mouat skipped his team to victory in the Men's Final, alongside teammates Grant Hardie, Bobby Lammie, Hammy McMillan, and Coach Alan Hannah. Bruce has seen success at both the national and international level already. He claimed the Scottish Curling Junior Championship in 2015 and 2016 and the World Junior Curling Championship in 2016. In Canada last year, he made history as the youngest men's skip to win a Grand Slam title.
On the women's side, Jennifer Dodds played her way to the win with teammates Hannah Fleming (skip), Alice Spence, Vicky Wright and Coach Nancy Smith. Jennifer was a Scottish Curling Junior Champion in 2013 and won silver at the World Junior Curling Championships in the same year.
Both Bruce and Jennifer come from Murrayfield curling families and curl in Murrayfield leagues when their schedules allow. Bruce also works part-time at Murrayfield Curling Rink as an ice technician.
We encourage you to support them in the playoff on March 3 and March 4 in Perth against the Olympic teams returning from South Korea. The winners will represent Scotland at the World Curling Championships!