Gogar Park B Claim Division 2 Title in Scottish Junior Curling Club Challenge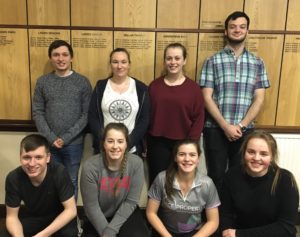 Congrats to this weekend's The Royal Caledonian Curling Club Scottish Junior Curling Club Challenge winners! The event took place on Saturday, January 6 and Sunday, January 7.
Murrayfield Curling Rink hosted Divisions 1 and 2. Dumfries A took home the top trophy.
Gogar Park B were competing in Division 2, after a disappointing relegation last year. They had a slow start, but managed to come out on top of the division, ensuring a promotion to Division 1 for next year.
Pictured are the winners of Division 2: Gogar Park B, Adam Keron, Rachel Dakers, Holly Davis, Kate Hall, Andrew Keron, Rowena Steven, Chris Morris and Kara Findlay.
Gogar Park A will compete in Dumfries for the Division 3 title next month.