Join the 1K Club!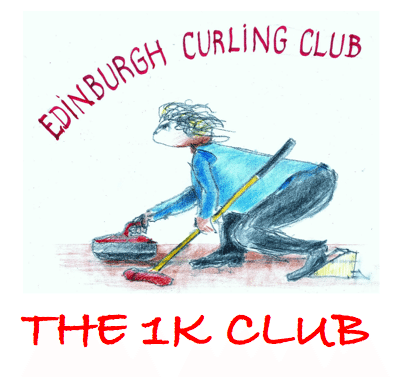 The current 1k club is very successful and several members are prize winners. The current 1K club ends in Jan 2017 and we intend to continue this so this is your opportunity to enrol in the 1K Club for 2017.
For those of you unfamiliar with it the 1K club is a monthly prize draw open to members of Edinburgh Curling Club.The draw will run for a ten month period from Feb 2017 to March 2018 excluding May,June, July and Aug 2017. The cost of one space in the draw is £1.00 per month and you can buy as many spaces as you wish. You must pay for all the spaces you are buying at the beginning. So one space for the ten month period cost £10 two spaces each month is £20 etc.Your name will be entered in each monthly draw. If you have one place your name will be entered once two places your name will be entered twice etc. Applications are only open to those aged 18 or over.
Each month the prize money will be allocated as follows 40% of the total monthly amount gathered will go to the first prize the next two prizes will each get 5% of the monthly total. Each month the winners will be contacted and their names will be published in the club rooms and on the website. The remaining 50% will go to the funds of Edinburgh Curling Club. The first 1kClub paid out £160.00 as a first prize and £20.00 as the other two prizes. The more people participate the higher the prizes.
The draw will take place each month on the first Monday of the month at approximately 11.00 in public in the Club Rooms.
If you want to join the 1K Club please send the following details clearly written and a cheque for the appropriate amount made out to Edinburgh Curling Club.
Name
Phone Number
Email if appropriate
How many places in the monthly draw do you wish to purchase?
to   Margaret Nicol
Edinburgh Curling Club
13a Riversdale Crescent
Edinburgh
EH12 5XN