Murrayfield "Swing and Sweep" Results 2016
This was the second year of the Murrayfield "Swing and Sweep" and another successful day was enjoyed by one and all.
In the morning, there was a Texas Scramble around Carrick Knowe golf course in a wind that might well have been described as "refreshing". Teams of four all drove off, and picked their best ball; all four played from the same spot again and so on… It is a great fun format and there were some exciting scores logged before the curling started at Murrayfield at 6.00 pm.
For every end won, two points were taken off the Texas Scramble score and a further two points were deducted for the win, so every single team was still in the hunt as the ice was taken. Trevor and Catherine Dodds and Lois and Robin Copland surprised themselves, the opposition and the distillers of Bombay gin with a twelve-point deduction off a golf score of 69 resulting in a net 57.
So to the club rooms for a superb buffet high tea and some predictably high jinks, with everyone joining in the fun. At the prize-giving ceremony, there was a lovely surprise for most of us. Roger Scott's team of Morrice Anderson, Ian McLeod and Gillian Black had won the inaugural competition last year and had commissioned a magnificent trophy which they have called the Iain Baxter Memorial Trophy. It is a lovely tribute to Iain and a most generous gift from Roger, Morrice, Ian and Gillian.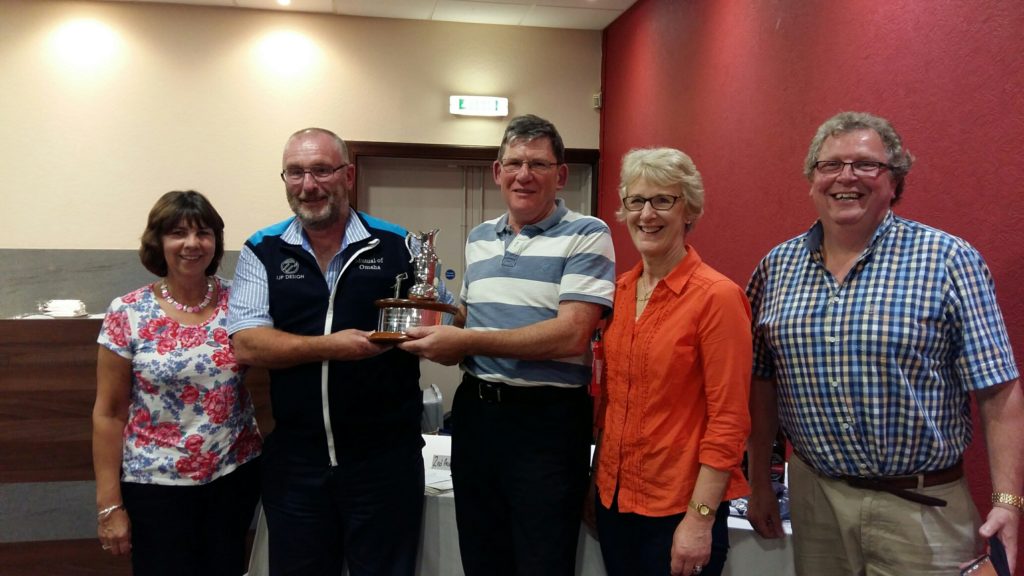 A great day and thanks were duly given to the team at Murrayfield for their organisation. This will be an annual event and no mistake.
1 Reply to "Murrayfield "Swing and Sweep" Results 2016"
Ronnie Hope

7th October 2016 (4:05 pm)

The Penicuik team had a great fun day, once again. Fortunately, for us, the score was really irrelevant! Many thanks to the organisers – and the buffet was excellent. We would encourage more clubs to enter next year – you won't regret it!
---