Quick quiz and curling night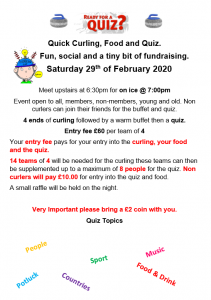 Fun, social, and a tiny bit of fundraising.
Saturday 29th February 2020
Meet upstairs at 6:30pm for on ice at 7:00pm
Event open to all (members, non-members, young and old). Non-curlers can join their friends for the buffet and quiz.
4 ends of curling followed by a warm buffet and quiz.
Entry fee £60 per team of 4. This pays for your team's curling, food and quiz. Up to 4 additional people may join your team for the food and quiz at £10/person.
A small raffle will be held on the night.
Very important: Please bring a £2 coin with you.
To enter, email the office – info@edinburghcurling.co.uk – or complete an entry form on the Edinburgh Curling Club noticeboard at the top of the stairs in the rink.