Team Kesley Win Henderson Bishop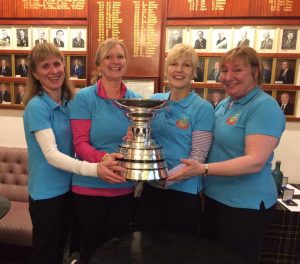 One of the biggest competitions in Scotland came to its climax this week as The Henderson Bishop Trophy finals were played at Stranraer Ice Rink. The 20 finalists had battled their way through local qualifiers to reach this point and were justly proud of representing their local ladies centre from around the country. Always an excellent combination of competitive play and social fun, this competition didn't disappoint with a competitive group stage and some close games determining the semi-finalists.
The high road saw two tight semi-finals. The first, between Lanarkshire and Murrayfield saw a late surge by senior champion Susan Kesley and steals in the 6th and 7th ends meant Murrayfield got through 8-6. They were joined by defending champions, Ayr, who saw off a spirited Forfar side. The game swung in the second half when Ayr took control with 3 points in the 5th end.
It was Murrayfield who were victorious in the high road claiming the Henderson Bishop Trophy against Ayr. A steal of 2 in the 4th end give Ayr the advantage but a big score of 4 immediately after swung the game to Murrayfield. Winning skip Susan Kesley was delighted at claiming her first Henderson Bishop title at skip: "It means so much to have won it as skip, I've had plenty of silver medals so it feels great to come through some really tight games. We were 3 up in both our semi and final but I never felt comfortable, especially given the quality of our opposition."
The true spirit of The Henderson Bishop comes to life off the ice where each host ice rink can showcase their local talents and Susan reflected on a typically warm welcome at Stranraer: "They were such lovely hosts, there were so many great evening events with a fashion show, a really funny ABBA tribute band and the classic disco. We were very well looked after." Susan and two of her teammates now look forward to the 2019 World Senior Championship in Norway.