Congrats Team Jackson and Ken and Linda Hunter!
The Royal Caledonian Curling Club have announced the winners of the 2017 Scottish Curling Awards. They are:
Team of the Year: Team Jackson (World Junior Silver Medallists) – Sophie Jackson (skip), Naomi Brown, Mili Smith, Sophie Sinclair, Laura Barr (alternate for the World Junior events) and Cate Brewster (coach)
After Scotland were demoted to the B-Division in February 2016, Team Jackson won a qualifier in November 2016 to represent Scotland at the World Junior-B Curling Championships. In January Sophie and her junior team dominated the championship, winning GOLD and promotion to the top division with an undefeated record. Less than two weeks later Team Jackson won the Scottish Curling Junior Championship title, Sophie Jackson and Naomi Brown's second consecutive title, again with an undefeated record. Less than five weeks later, representing Scotland, the girls won SILVER at the World Junior Curling Championships in Gangneung, Republic of Korea.
Naomi, Sophie Sinclair, and Laura all curl here at Murrayfield.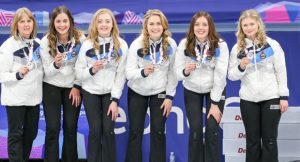 Ice Diamond Award: Ken & Linda Hunter
Since 2011 the Edinburgh International Curlers Gathering has been led by Ken and Linda, a competition inspired and founded by Colin McColl, a member of Penicuik Curling Club, in 2005. Supported by Penicuik Curling Club volunteers, and held at Murrayfield Curling Rink, the three-day non-profit, grassroots-led tournament has flourished and matured, principally through Ken and Linda's dedication, warmth and leadership. Since its inception, around 1,000 curlers from dozens of countries have been attracted to Edinburgh to play and socialise with an equal number of curlers from across the south of Scotland.
The commitment of Ken and Linda, with their small band of volunteers, extends far beyond simply organising a tournament. They arrange hotel reservations, greet all players at Edinburgh airport, transport them to their hotels, organise the evening dinner, the (in)famous ceilidh, and after three packed days ensure that they return home safely, happy and buzzing about Scottish hospitality. Ken's attention to detail, and Linda's effervescence, has enabled Penicuik Curling Club and Murrayfield Curling Rink to host generations of families and entire clubs. The tournament embodies the heart of curling; enduring friendships, developed on the ice, that stretch around the globe and over the years.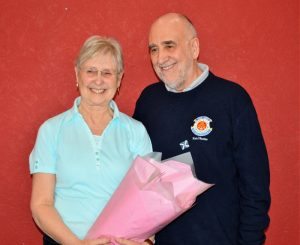 Young Curler of the Year: Sophie Jackson
Sophie claimed her second consecutive Scottish Mixed title at the end of the 2015-2016 season with Team Bryce, and went on to win BRONZE at the World Mixed Curling Championship in Kazan, Russia at the beginning of the 2016-2017 season. In January, she led her junior team to victory at the World Junior-B Curling Championships, securing Scotland a place in the A Division. Less than two weeks later she won her second Scottish Curling Junior Championship title. She went on to win SILVER five weeks later at the World Junior Curling Championships in Gangneung, Republic of Korea. Sophie also won the inaugural Scottish Curling Junior Mixed Doubles Championship with Ross Whyte.
Grassroots Coach of the Year: Sandy Wilson
Sandy's hard work and commitment has ensured that Dundee Junior Curling Club goes from strength to strength. Sandy, an RCCC Level 1 coach, is the back bone for the club; making sure that all the coaches keep coming each week and providing a regular plan and Sunday night email so they know what they are all doing. The children love Sandy and it's great to see the smiles and laughter that she promotes in the club – many continue to curl when they might give up thanks to her friendly and encouraging approach.
The winners will be presented with their awards during the proceedings of the Royal Caledonian Curling Club's 179th Annual General Meeting at Braehead Curling Rink, Glasgow on Saturday 17 June 2017 at 2pm.
Photo credits: Team (c) WCF/Alina Pavlyuchik