On Ice and in the Classroom with the University of Edinburgh Business School
Each year, students in the MSc Marketing and MSc Marketing and Business Analysis course spend the second week of the academic year on a group project examining a local business. This autumn, Murrayfield Curling Rink welcomed students to the clubroom for a breakfast briefing with Marketing and Sport Development Manager – and programme alumna – Evie Chamberlain.
Equipped with a detailed brief and their answers to their questions, the students then headed back to campus for four days of intensive research and brainstorming. At the end of the week, they presented their marketing plans. "It was great to hear their unique ideas for encouraging new people, particularly families, to try the sport," said Evie. "I'm looking forward to incorporating some of their research and suggestions."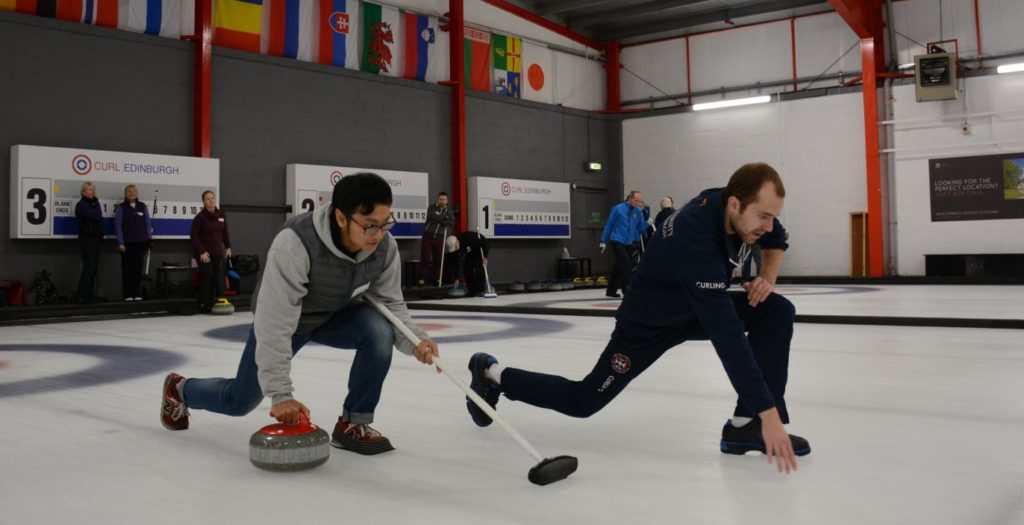 A few weeks later, students returned to the rink, this time to try out the sport they'd just been introduced to. The session was led by Edinburgh University Curling Club secretary Gabriella Wallentin with help from student Tristan Hughes and coach-in-training Evie.
"It was fun to see so many students interested in trying curling, especially since they come from a group that would normally not sign up for a try session," said Gabriella. "We had a good time and we hope to see some joining our club!"
Lecturer Caroline Marchant explained, "our MSc Marketing students come to study with us at the Business School from all over the world. This year it has been fantastic to introduce them to such a traditional and thriving Scottish sport and lovely to work with one of our most successful MSc alumna in the Marketing Manager, Evie Chamberlain. The visit to trial curling session was the icing on the cake for our students and a fun way to thank them for their hard work developing Group Marketing Plans for Edinburgh Curling. Big thank you to Evie, the University of Edinburgh Curling Club and the whole team for making this possible."