Roar of Stones Heard in Penicuik for the First Time in Eight Years
Members of Penicuik Curling Club were in for a treat last weekend as the cold snap allowed them to step onto outdoor ice for the first time in eight years.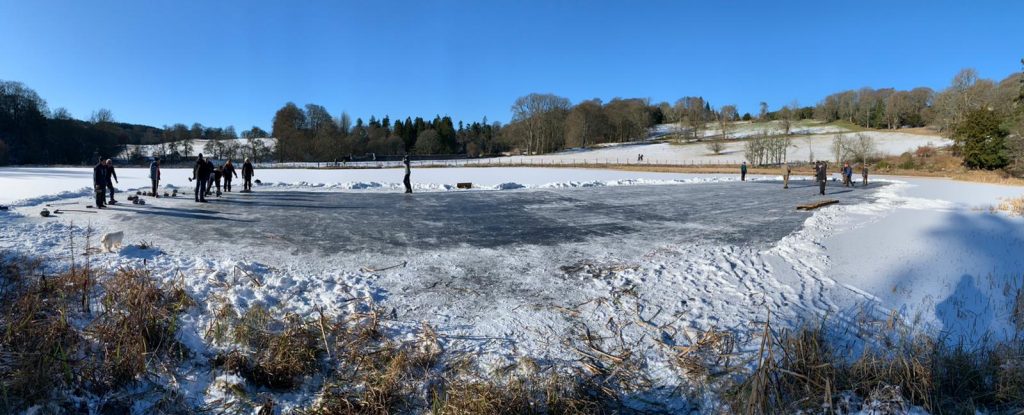 The traditional spirit of the sport was ignited once more as teams threw the hundred-year-old stones across the Pond at Penicuik House Estate.
Penicuik House posted some fantastic images on their Instagram account, which have garnered 230 likes so far. They commented on Instagram:
"This weekend Penicuik Curling Club, one of the oldest curling clubs in the world, having waited eight long years for safe conditions took to the ice of the Low Pond. Penicuik Curling Club dates back to 1815 and has been active ever since. In 1847, Penicuik House hosted the first Grand Match between the North and South of Scotland, which was painted by Jemima Wedderburn."
President of Penicuik Curling Club Christine Hope explained:
"A group of our experienced members made an early start, clearing the snow and preparing two rinks. Four teams of four played a "round robin" for almost two hours. A fairly large gathering of non-playing members, friends, walkers and their curious dogs watched and listened in wonder; it was a truly beautiful sight with a clear blue sky over a snow-covered landscape. It's been a long time since we have heard the roar of the stones.
"At the end of play, stones and crampits were locked away, (who knows when they will be put to use again!), customary drams were liberally taken, and toasts made all round, led of course by Hon. Pres Cowper."
After such a successful and memorable day, the players are hoping not to wait quite so long for another cold snap!
See drone footage and additional photographs of the match on the Penicuik House Instagram page.
For enquiries about Penicuik Curling Club please visit www.penicuikcurlingclub.co.uk.
(text provided by Penicuik Curling Club)