Team Kesley Headed to Norway
Congratulations to Susan Kesley, Fran Stretton, Vicky Gumley and Morna Aitken on winning the Ferguson Oliver Wealth Management Scottish Curling Senior Championship earlier this month!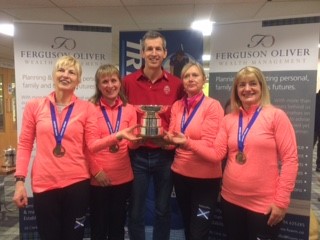 They played Team Lockhart in the final. The game was peeled in the final end, with Team Lockhart having last stone. Team Lockhart was lying and Susan with her last stone drew and it looked very close. Jackie Lockhart played her last stone and missed the tap up. Tensions on and off the ice were high! It came down to a measure to decide the championship, with Team Kesley winning the day.
Team Kesley will represent Scotland at the World Senior Curling Championships in Stavanger, Norway in April.
The competition took place from January 31 – February 3, 2019 at the Dewars Centre in Perth.